ShambaJijini Summit
16th to 31st of October 2021
Els Breet & Beatrice Gatumbo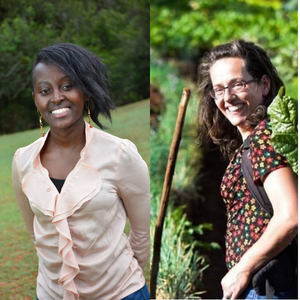 "Everyone should know what a farm looks like and where the food comes from."
Els Breet is an organic farmer, together with her husband Kamande, she runs Mlango Farm.
Mlango Farm is a beautiful vegetable farm just outside of Nairobi. Kamande and Els started the farm 14 years ago, as an organic farm; 20 acres but not all used. They welcome visitors to Mlango Farm for family day trips, team retreats, birthday parties, etc. The Mlango Farm Foundation welcomes schools for educational visits. They make and collect eco-bricks and we are a House of Artemisia.
"Having farm tours is a good opportunity for clients to see how and where their food is grown, and to inspire them to try farming at home."
Beatrice Gatumbo is the Sales & Networking Supervisor at TAMALU FARM, LEAF Africa - ForestFoods.
Tamalu Farm is a 10-acre site regenerative farm at the slopes of Mount Kenya. The farm layout is split into a number of enterprises:  The Agroforestry Market Garden currently consists of half an acre of growing space with over 80 varieties of integrated fruit, vegetable, herb, native and timber tree species. The annual produce from this section goes into our weekly vegetable box deliveries.
They also grow Cash Crops, including Miraa, Blueberries, Gooseberries, Passion, Pepino melons and more, depending on season.  Various Livestock demonstrations include pasture raised layers in egg mobiles; rotational high intensity non selective grazing of sheep.
In the interview Els and Beatrice speak about the benefits of organic farming and syntropic agroforestry - and about being able to demonstrate these benefits at the respective farms. Both consider farm visits as a great option to educate their visitors on where and how food is actually grown. It is interesting to listen to them speak about their different target groups and the joy of working at a farm.